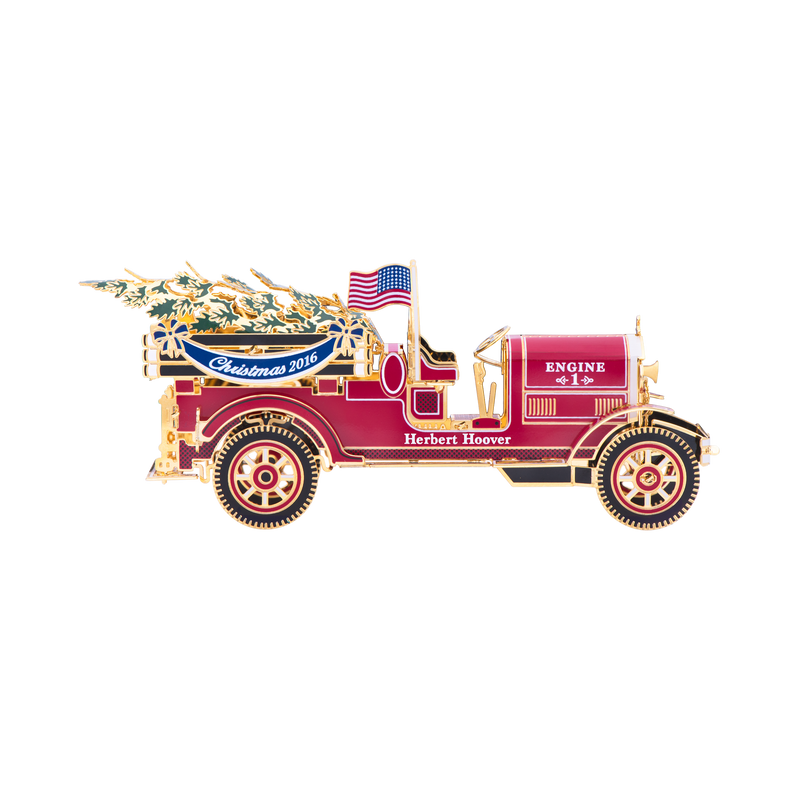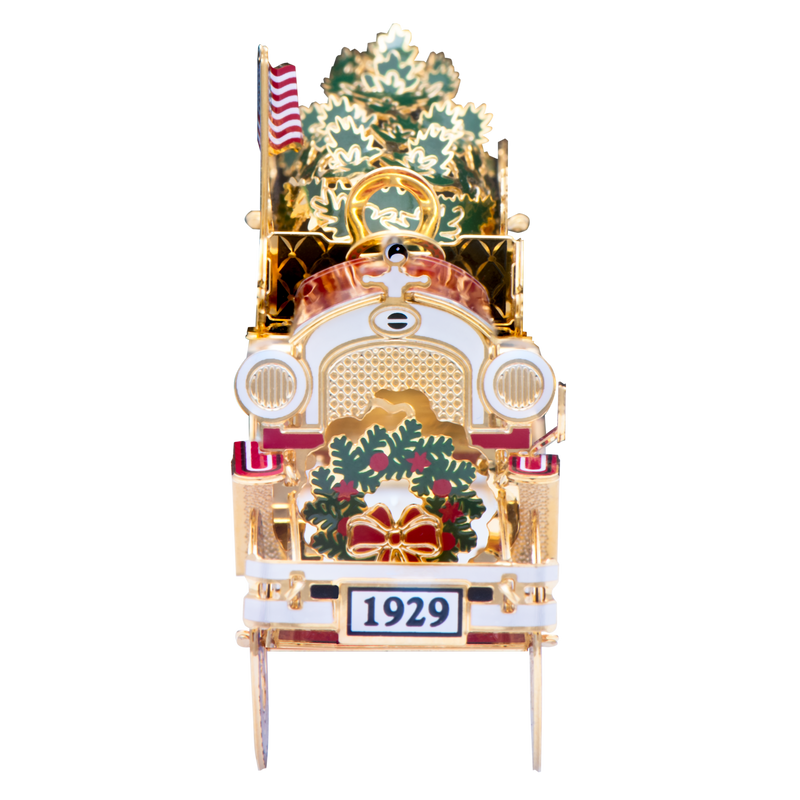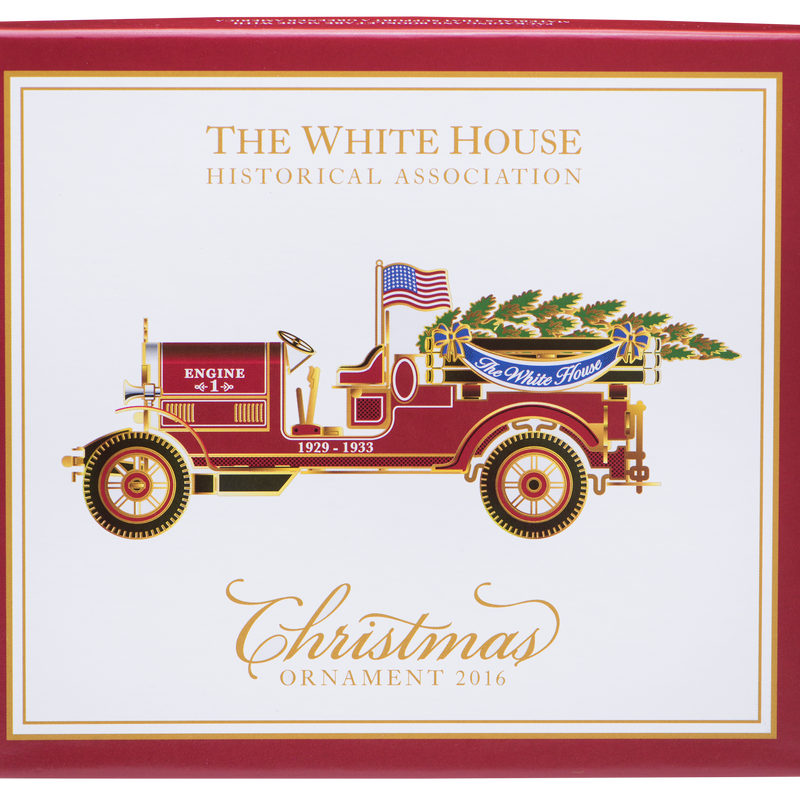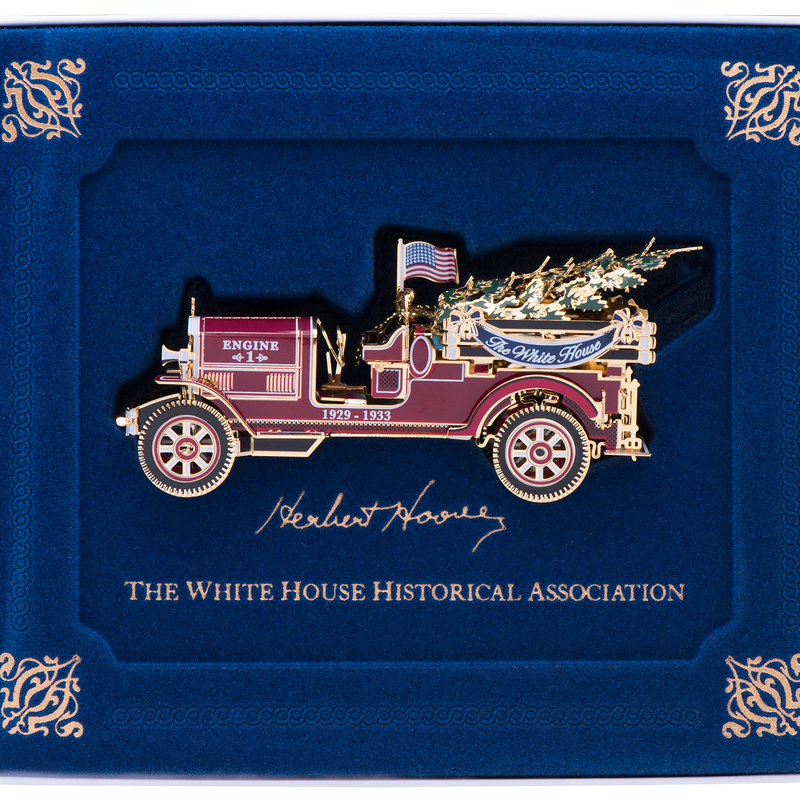 Additional Information
The Official 2016 White House Christmas ornament honors the administration of Herbert Hoover, who served as the thirty-first president of the United States from 1929 to 1933. It is inspired by the fire trucks that responded to the 1929 Christmas Eve fire at the White House and the toy engines presented to children by the Hoovers the following Christmas. The ornament is crafted from shiny brass plated with nickel and 24-karat gold, and the engine carries a Christmas tree for delivery to the White House.
On December 24, 1929, the White House was filled with Christmas cheer when traditional festivities got underway. President and Mrs. Herbert Hoover were entertaining his staff and their children at the party while the Marine Band played carols. The drama began when Chief Usher Ike Hoover whispered to the president, "The executive office is on fire!" President Hoover rose from the dinner table and asked the men to follow him to the West Wing. The men proceeded to rescue as many of the president's papers as time allowed, while First Lady Lou Hoover, informed of the blaze, calmly supervised the party.
The four-alarm fire brought nineteen engine companies and four truck companies to the White House. One hundred and thirty firefighters began to battle the blaze. The bitter cold temperatures froze some of the hoses. By about 10:30 p.m., the fire was extinguished. Fire Chief George Watson reported that excessive heat from a blocked chimney flue or defective electric wiring had caused pamphlets stored in the attic to ignite, and fire had spread quickly. Congress would soon pass a special appropriation to rebuild the uninsured office wing. The Charles H. Tompkins Company of Washington, D.C., completed the work and Hoover and his aides moved back into the remodeled West Wing on April 14, 1930.
This year's ornament design was created by art student Kayla Whelan, the winner of a national art school design competition created by the Association. Whelan attends Montserrat College of Art in Beverly, Massachusetts.
SPECIAL PURCHASING NOTE
The sale of the Official 2016 Christmas Ornament is intended for individuals to add to their personal collections. Any individual or organization wanting to purchase the ornament for resale must register a wholesale account on our website. The Association reserves the right to limit quantities, refuse orders, and/or cancel orders at its discretion.