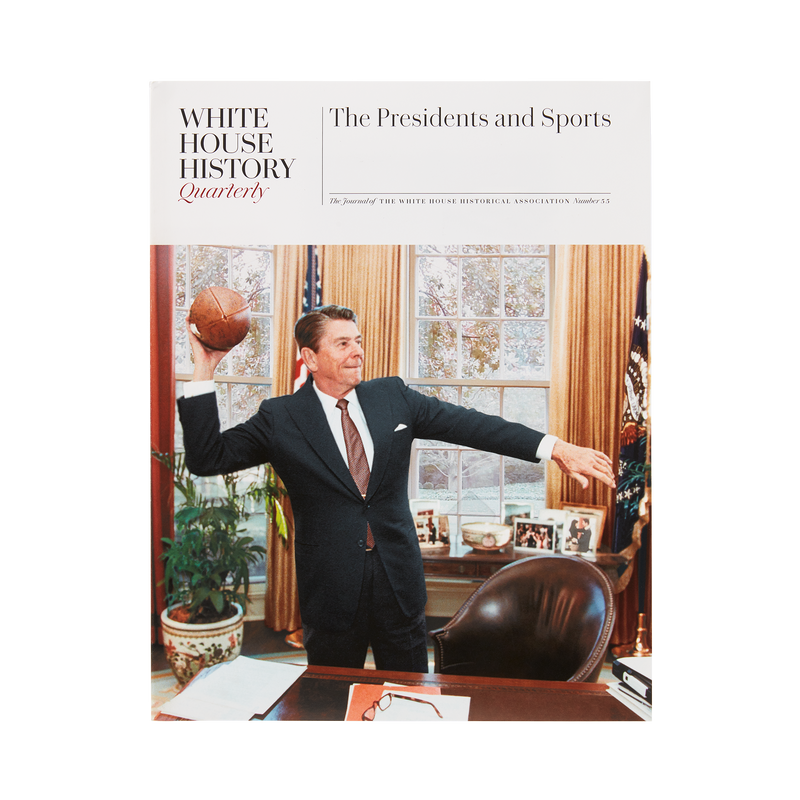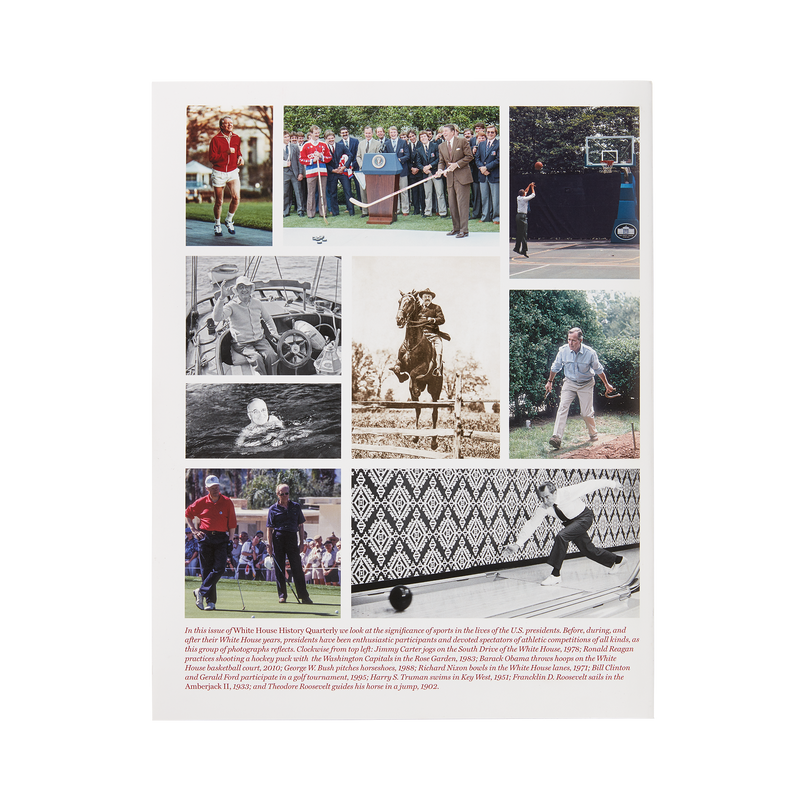 Additional Information
This issue looks at the sports personally pursued by the presidents—before, during, and after their White House years—as well as the national pastimes they share in celebrating with the American people. "Athletics, even as mere exercise, has been a major feature of White House life from the start," writes William Seale, editor of White House History Quarterly. "All manner of sports have appealed to the nation's chief executives to break the physical monotony of presidential life laid before them. Ulysses S. Grant played billiards, Theodore Roosevelt took up jujitsu, and Herbert Hoover created Hoover Ball, a complicated and strenuous game, somewhat obscure yet still played today. Fishing and golf have been a primary distractions for many, including Dwight D. Eisenhower. And presidents have long paid attention to spectator sports, too, first to baseball, then to football—specially favored by Theodore Roosevelt, as this issue reveals. Winning teams and heroes in all kinds of competitions are now honored by invitations to the White House."
Featured are articles on presidential baseball traditions, by author and journalist Frederic J. Frommer; President Ulysses S. Grant's White House Billiard Saloon, by designer David Ramsey; President Theodore Roosevelt's efforts to transform the once bloody sport of football, by historian Mary Jo Binker; and the story of Hoover Ball, by Matthew Schaefer, an archivist at the Herbert Hoover Presidential Library and Museum. Photographer Al Freni shares his memories of capturing two iconic photographs of President Eisenhower golfing and fishing with his grandson David and Quarterly Editor William Seale brings to life the story of President Theodore Roosevelt's efforts to learn self-defense with his piece on "The Long Shadow of Jujitsu In The East Room."
With "The Fan in the White House: Presidents and the Nation's Champions," The White House Historical Association's President Stewart D. McLaurin presents a collection of the most iconic sports moments in White House history, writing "every sitting president is in a sense the nation's 'first fan,' adding to the spectators' excitement—and often making history—with a show of support. Whether it is throwing out the first pitch of the season or shaking the hands of the victors in the East Room after the final game, every moment of presidential enthusiasm for a matchup is newsworthy and reflects the passion the commander-in-chief shares with the nation for sports of every kind."
For more information about our publications, please contact books@whha.org.
Awards:
Winner - Communicator Award