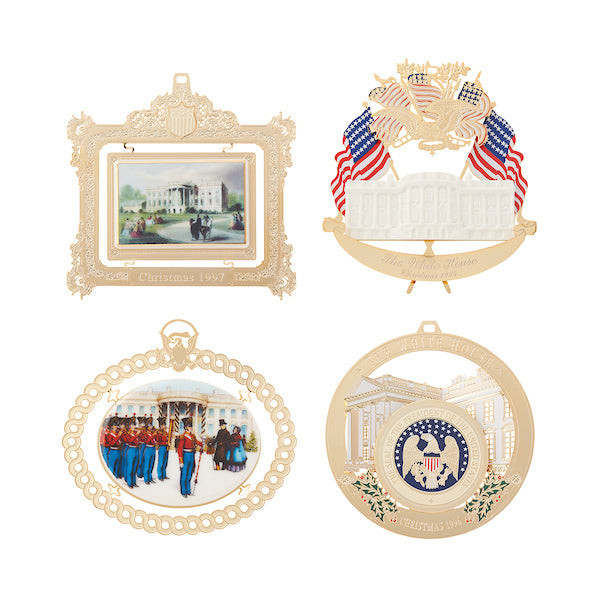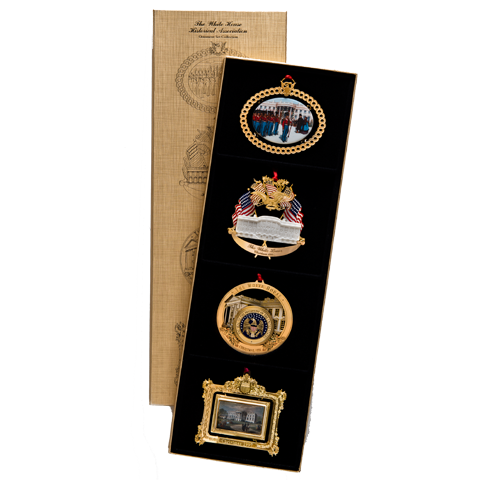 Additional Information
This set includes the four White House Christmas ornaments produced from 1994 to 1997. (These ornaments are no longer sold individually.)
1994 Imperial Christmas, 
honoring James K. Polk, 11th President of the United States, 1845–49. The cameo at the center features an illustration of the President and Mrs. Polk on the South Lawn of the White House while they are serenaded by the United States Marine Band. 
1995 A Patriotic Christmas, 
honoring Zachary Taylor, 12th President of the United States, 1849–50.  The patriotic theme of this ornament is inspired by the ceremonies that President Taylor attended on the grounds of the Washington Monument on July 4, 1850. 
1996 The Presidential Seal,
 honoring Millard Fillmore, 13th President of the United States, 1850–53. The earliest documented Presidential Seal was sketched by Fillmore and sent to Edward Stabler, a nationally renown seal engraver. The seal of the President of the United States is combined with an image of the North Portico of the White House. 
1997 The White House Grounds,
 honoring Franklin Pierce, 14th President of the United States, 1853–57. The design of the ornament is inspired by the renovations and redecoration of the White House in 1853 and 1854. The fancy gilt frame, based upon the elaborate gold-leafed frames of two huge mirrors Pierce hung in the state parlors, symbolizes the rich character of the new furnishings. 
Each ornament is finished in 24-karat gold. The set is packaged with four brochures: one for each ornament describing the inspiration for its design and relevant historical background information.