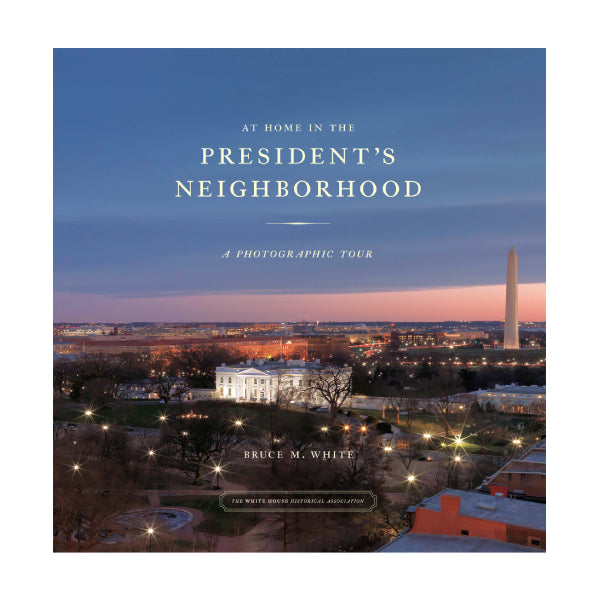 Additional Information
With the White House, the visit to the president's neighborhood begins. It is one of the most historic neighborhoods in the nation. Vigorous life has gone on here for two centuries, warmed by the proximity to the great power represented in the White House. Introduced by historian William Seale and narrated with the words of American presidents and first ladies, At Home in the President's Neighborhood: A Photographic Tour presents a contemporary view of the city through the lens of Bruce M. White's camera. Through nearly 200 never before published images, we see the neighborhood as the president sees it from the White House to the surrounding parks, Washington's historic homes and hotels, neighborhood landmarks, government and commercial architecture, and city streets. Activity seems to spin around the president. The neighborhood is not totally presidential, but at its high mark, it seems so, for one is continually aware of this highest official when there. But beyond being home to the head of state, the White House neighborhood is a microcosm of past and present in the capital of the United States.
Published by the White House Historical Association. 200 Color Photographs, Casebound with dust jacket. 324 pages, 11.25 x 11.25 inches.
About Bruce M. White
Bruce M. White is a fine art and architectural photographer. Formerly a staff photographer at the Metropolitan Museum of Art and Sotheby's, Bruce now works on commission for museums, artists, art collectors, universities, and publishers in the United States and abroad. His award-winning photography is used to illustrate publications and exhibition catalogs and is also displayed in museum exhibitions. For the White House Historical Association, Bruce served as principal photographer for The White House: Its Historic Furnishings and First Families; the fiftieth anniversary edition of the White House: An Historic Guide; and most recently Tudor Place: An American Treasure. He has also contributed to Art in the White House and many issues of White House History, the association's quarterly journal. Other notable publications include: with James Goode, Capital Houses: The Historic Houses of Washington, D.C., and with Helen C. Evans, Saint Catherine's Monastery, Sinai Egypt: A Photographic Essay.
For more information about our publications, please contact books@whha.org.
Awards:
Independent Publishers Book Awards: Gold Medal - Regional (Non-Fiction)
National Indie Excellence Awards, Winner - Photography
Next Generation Book Awards, Winner - Travel