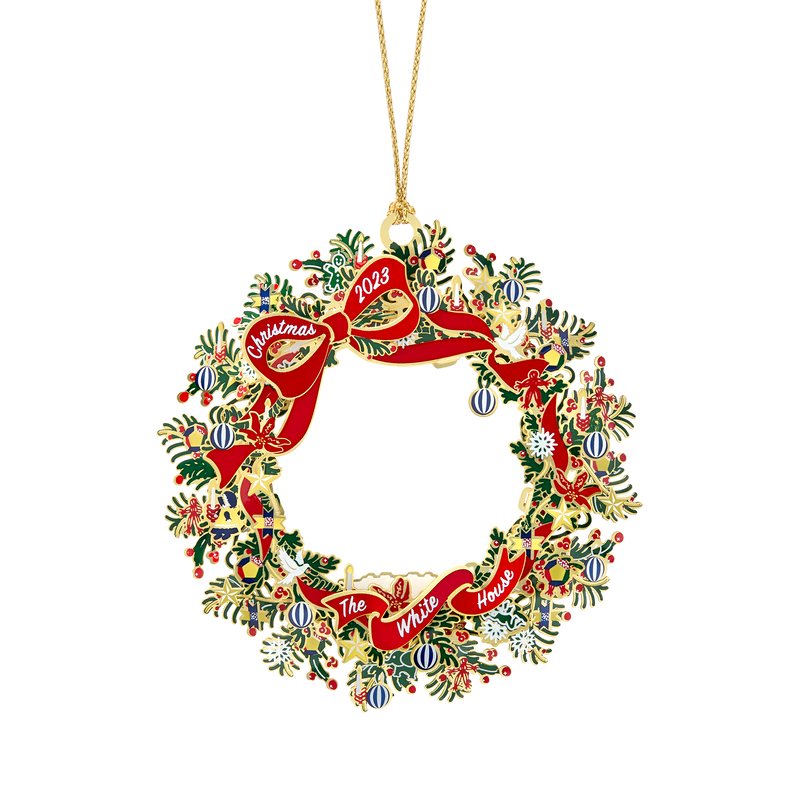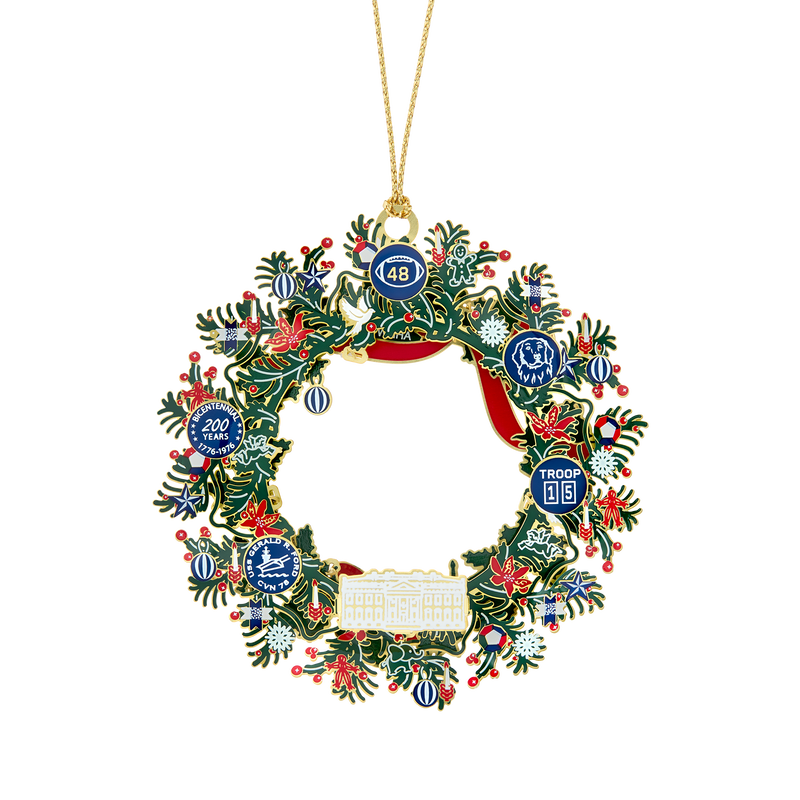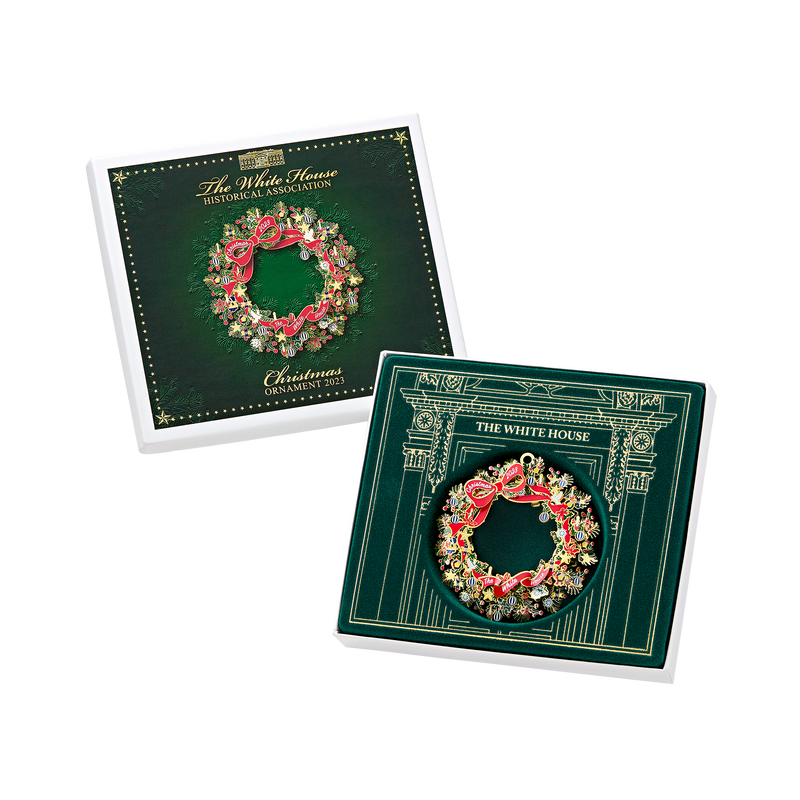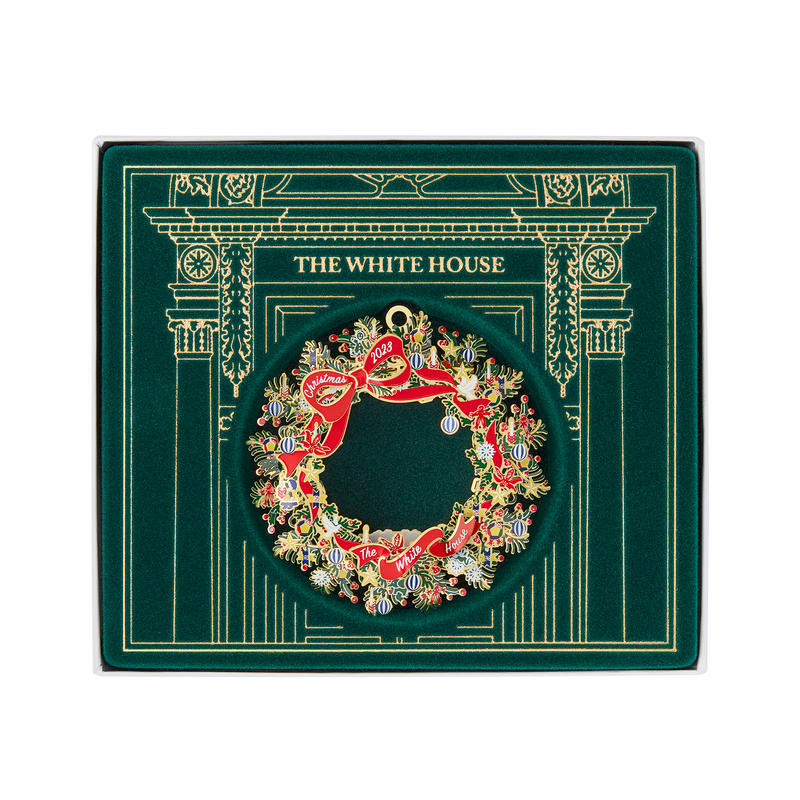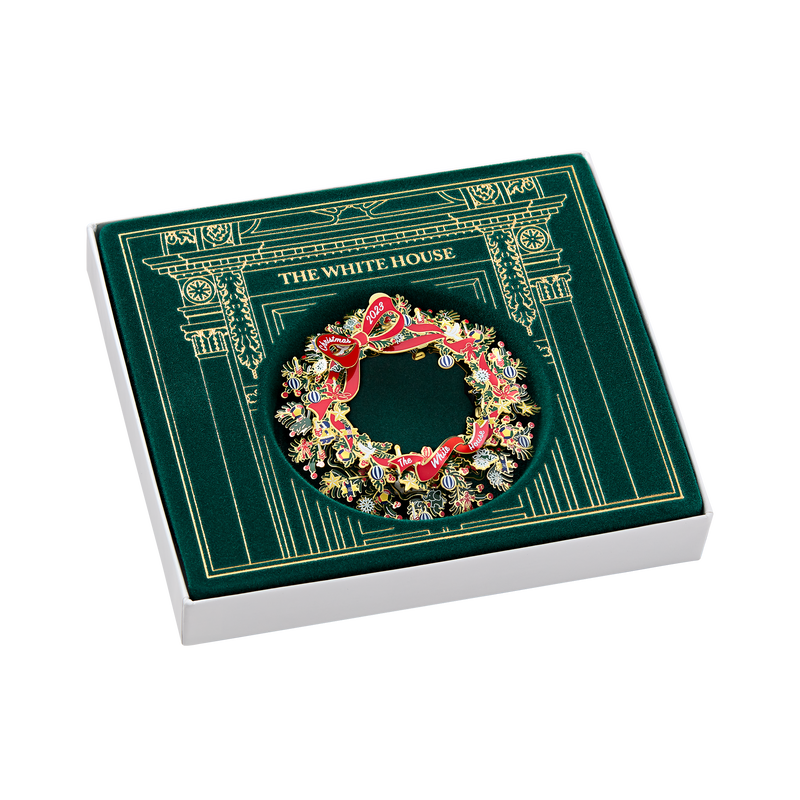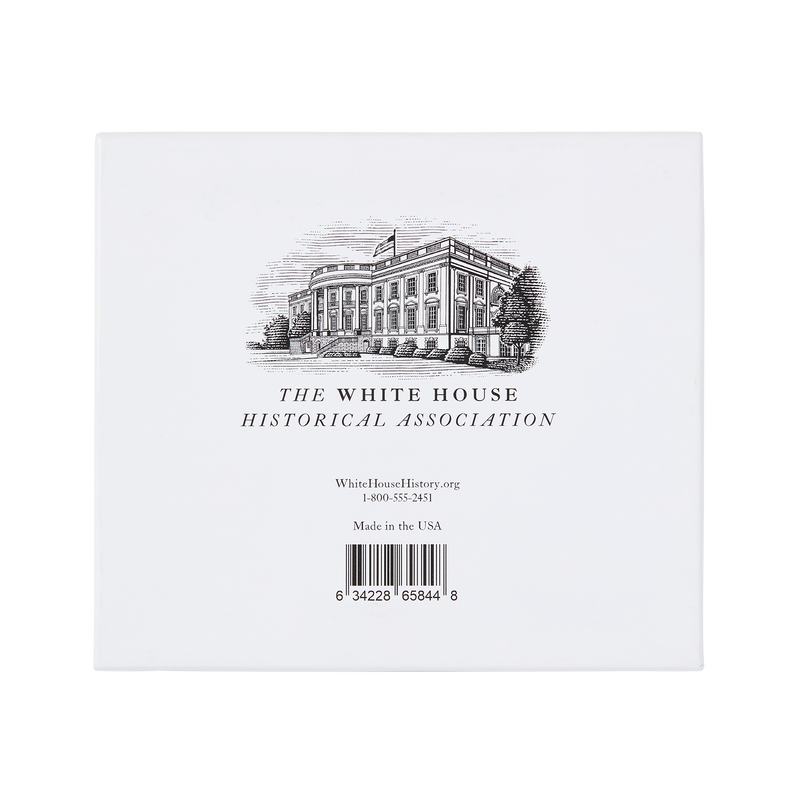 Additional Information
The Official 2023 White House Christmas Ornament, the only ornament of its kind, is produced by the White House Historical Association, a private, nonpartisan organization, and made in America by a veteran-founded business. Each ornament funds the work of our historians, researchers, and educators to open the doors to the rich history of the "people's house" for millions of Americans. 
 
This year, the Official White House Christmas Ornament is a festive holiday wreath, adorned on the front with decorations inspired by the handcrafted Christmas ornaments used in the White House during the Gerald R.Ford presidency. Dozens of cherubs, doves, stars, flowers, gingerbread men, candles, and pentagon balls, in bright, cheery colors are featured with red ribbons at the bottom bearing the words "Christmas 2023" and "The White House."
On the back of the ornament are emblems related to the life and presidency of Gerald R. Ford. 
·  "Troop 15" signifies Ford's success in earning the rank of Eagle Scout, the highest achievable rank in the Boy Scouts of America. He is currently the only president to have this achieved this honor.
·   A football bearing the number "48," which Ford wore when playing for the University of Michigan, represents his athleticism.
·   The golden retriever is Liberty, the Ford family's famous dog, who had a litter of puppies while in the White House.
·    A Bicentennial pin signifies President and Mrs. Ford's contributions to celebrating the 200th anniversary of America's founding, including a State Dinner in honor of Queen Elizabeth II.
·    An emblem for the USS Gerald R. Ford (CVN 78) highlights the first-in-class aircraft carrier commissioned to honor the thirty-eighth president as the flagship of the Gerald R. Ford Carrier Strike Group.
·    And a gold plaque featuring a view toward the North Portico of the White House identifies Ford's time as president from 1974 to 1977.
Since 1981, the White House Historical Association has been proud to foster the Official White House Christmas Ornament program. Each ornament sequentially honors a president or White House anniversary and collecting and giving these unique ornaments has become a holiday tradition for families across the United States and abroad. Purchase the Official 2023 White House Christmas Ornament and help preserve our shared American story for generations to come.  
SPECIAL PURCHASING NOTE
The Official 2023 White House Christmas Ornament retail sales program is designed for individuals building personal collections and gift giving. Those individuals or organizations wishing to purchase the ornament for resale must register a wholesale account on our website. The Association reserves the right to limit quantities, refuse orders, and/or cancel orders at its discretion. For more information on our wholesale account process, visit our Wholesale Account Information
Interested in fundraising with our Official 2023 White House Christmas Ornament? Visit our Fundraising page today!