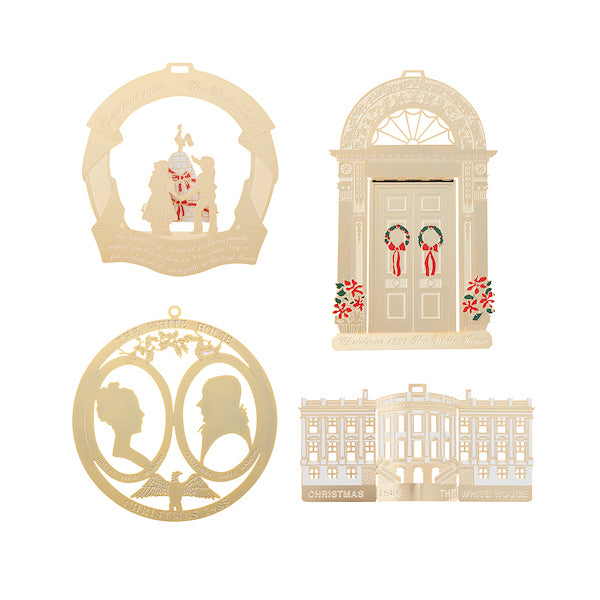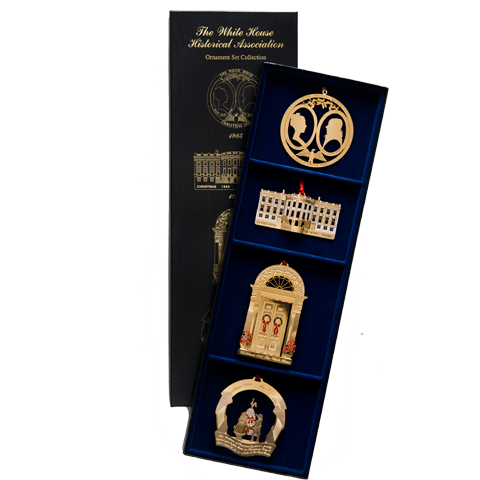 Additional Information
This set includes the four White House Christmas ornaments produced from 1985 to 1988. (These ornaments are no longer sold individually.)
1985 Madison Silhouettes honoring James Madison, 4th President of the United States, 1809–17. The ornament celebrates the hospitality and warmth of the Madison White House and features two early silhouettes of President and Mrs. Madison. First Lady Dolley Madison, pictured here as a young woman in the 1780s, is most famous for saving the portrait of President Washington when the British burned the White House in 1814. 
1986 The South Portico honoring James Monroe, 5th President of the United States, 1817–25. The ornament features the south front of the President's House as it appeared in 1824 during Christmas and New Year's festivities. The half-circle South Portico was built the previous year, giving the mansion one of its most distinctive architectural features. 
1987 White House Doors honoring John Quincy Adams, 6th President of the United States, 1825–29. Adams was a dedicated gardener who developed the landscape of the White House, and established the grounds as an arboretum of American tree specimens. The sandstone portal and double mahogany doors of the White House, decorated for Christmas with evergreen wreaths and red poinsettias, set the theme for this ornament. 
1988 The President's Children honoring Andrew Jackson, 7th President of the United States, 1829–37. 
Each ornament is finished in 24-karat gold. The set is packaged with four brochures: one for each ornament describing the inspiration for its design and relevant historical background information.