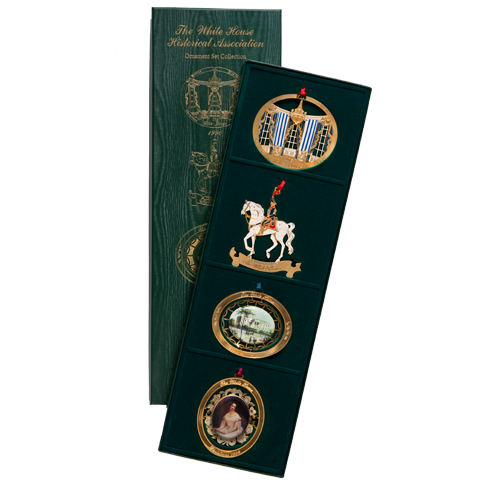 Additional Information
This set includes the four White House Christmas ornaments produced from 1985 to 1988. (These ornaments are no longer sold individually.) 
1990 The Blue Room honoring Martin Van Buren, 8th President of the United States, 1837–41. The Congress gave him $20,000 for repairs to the mansion. In addition to installing central heating in the main rooms, he ordered the state parlors redecorated. Van Buren wanted the oval parlor to be blue and it has remained so ever since.
1991 White Charger honoring William Henry Harrison, 9th President of the United States, 1841. The White Charger ornament honors President William Henry Harrison, who died just 32 days after his inauguration. On March 4, 1841—inauguration day—Harrison mounted a beautiful white charger, and went to the Capitol with a large procession to take the presidential oath of office. 
1992 Bicentennial of White House Cornerstone. The first building stone of the White House was set in 1792, probably in the early summer. And the cornerstone was officially laid a few months later, on October 13. One face of the ornament depicts the text of the cornerstone, as published in the press at the time it was laid. On the opposite face, reproduced in full color, is an 1848 lithograph of the north side of the White House, based on a watercolor by August Kollner.
1993 May and September honoring John Tyler, 10th President of the United States, 1841–45. Tyler was the first president to marry while in the White House. His second wife, Julia Gardiner Tyler, was 30 years his junior. Her portrait—the first of a comprehensive White House collection of portraits of the first ladies—has for this ornament been reduced to resemble a miniature portrait of the sort given as gifts to special friends and loved ones at the time.
Each ornament is finished in 24-karat gold. The set is packaged with four brochures: one for each ornament describing the inspiration for its design and relevant historical background.